A unique landscape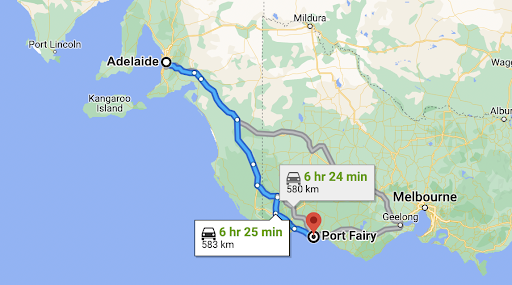 The South of Australia attracts all types of travellers. The scenery, wildlife, history, culture and diverse landscapes are what make it so unique. It's been said the folk in the south are the friendliest too.
One particular enticing section belongs to the Adelaide – Port Fairy trip. This trip can be done in a one day shoot through, eyes on the road, "are we theeeere yeeeet" style of roadie.
We recommend an overnight trip. You get to take in some of South Australia's only world heritage area, get up and close with wildlife many people never get to see and give the kids something else to think about apart from "I spy".
A quick breakdown Adelaide – Bordertown – Naracoorte Caves (Overnight stay here) – Mt Gambier – Portland – Port Fairy.
Wildlife abounds
Pack your car, some snacks, games and smiles. Leaving early is suggested, first stop Bordertown. You will want to exit Adelaide via Riddoch Highway/National Highway A8. Keep your eyes open for emus, dingoes, wallabies and soaring eagles.
Bordertown is 271km, 2hr 55min from Adelaide. It's not the most direct route but it's more interesting. It's also a perfect amount of time of driving to arrive for lunch! Grab a quick bite from the Morning loaf bakery. Just be careful – the people who work there are so friendly and chit chatty you may lose a few hours out of your day.
Quick stop and the kids might complain but you can keep them assured with Bordertown's White Kangaroos Wildlife Park, lots of wonderful animals but the most impressive — albino grey kangaroos. Few photos and a pat and you'll be heading south to Naracoorte caves via Naracoorte Rd. The caves are world heritage and approx. 800,000 yrs old. If you have some extra time up your sleeve, check out Claytons farm, a historic site built from all traditional materials. It's on Naracoorte Rd few km's out of Bordertown.
Hit the road for 108km/1hr 17min to Mt Gambier Blue Lake, to take in the breathtaking vibrant blues in the centre of an old volcanic…

Naracoorte is 92.7km, about 1.1hr, dependent on loo stops, wildlife spotting and the amount of chatter coming from the back seat. It's a scenic drive…

Whale watching in Warrnambool and Port Fairy. Warrnambool is regarded as the Southern Right Whale nursery of the South-west. The whales return to the warm…